About Us
Grace Community Church
is a family-oriented Bible believing church that enjoys a relaxed atmosphere of worship and focuses on the teaching of the Bible. We are a loving, caring group of people committed to fulfilling the Great Commission.
We as a church are a body of believers who are resting upon the finished work of the cross of Christ. Salvation is God's work from beginning to end. With so many projects in life left unfinished, it is a real blessing to know that our Lord will finish His work of salvation in us. It is not us holding onto Him, rather, it is God holding us in the very palm of His hand.
The Lord raised up Grace Church in January 2004 and we began meeting at the Radisson Hotel in Camp Hill.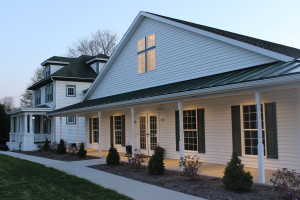 What We Believe
God is bigger and better and closer than we can imagine. He created and loves all people, and He wants to have a personal relationship with everyone.
We believe the Holy Scriptures are God's revealed truth and were given originally without any error.
We believe in the blessed Trinity of God.
We believe Jesus to be the incarnate Son of God sent by the Father to be the Lamb of God who died in our place upon the cross. He was resurrected from the dead on the third day and not long after ascended into the heavens. One day He will return to gather His own and reign as King of Kings and Lord of Lords.
We believe it is essential for every man and woman to be born again. We recognize that faith comes by hearing the Gospel and that the Holy Spirit uses it to regenerate spiritually dead sinners.
We believe that true salvation lasts forever. We believe that men and women were made for God.
We believe in the local church which is a body of believers who gather to worship the Lord and give themselves to fulfilling the Great Commission. We believe that the Elders of the church are to exercise the leadership of the church.
We believe in a literal heaven where the Lord has prepared a place for His own. We also believe in the eternal existence of Hell which was made for Satan, his fallen angels, and the vast majority of people who have never trusted the Savior as their own. We believe that the local church is to be a loving community of believers who encourage each other in the faith and love those in the community who are not believers. We are to be the hands and feet, and heart of Jesus to those who need help in life.
Come 
visit us
 next Sunday or join us for one of our weekly meetings or Bible studies.