Events
Monday, June 12th thru Friday, June 16th – 6:30-8:30 PM
Calling all Knights & Maidens! Your presence is requested for a royally fun time at Vacation Bible School this summer at Grace Community Church!
Click here for more information and free registration!
---
Sunday, June 18 – 10:00am
Experience Father's Day at Grace Community Church with a special worship service and women's choir! Our free cafe, relaxed atmosphere, and focus on teaching the Word will draw your family into God's presence on this anticipated morning. Cafe opens at 9:30am.
---
Sunday, July 4 – 10:00am
Jonathan Zebulske will be guest speaking from God's Word. Jonathan is a recent graduate of Southeastern Seminary in Wake Forest, North Carolina, where he earned his Masters of Divinity.
After service, join us for lunch in the farmhouse! Every first Sunday of the month, we invite you to the farmhouse immediately after worship for lunch together! Bring your favorite lunch dish, but most importantly yourself & a friend. Service begins at 10:00 and lunch will immediately follow.
---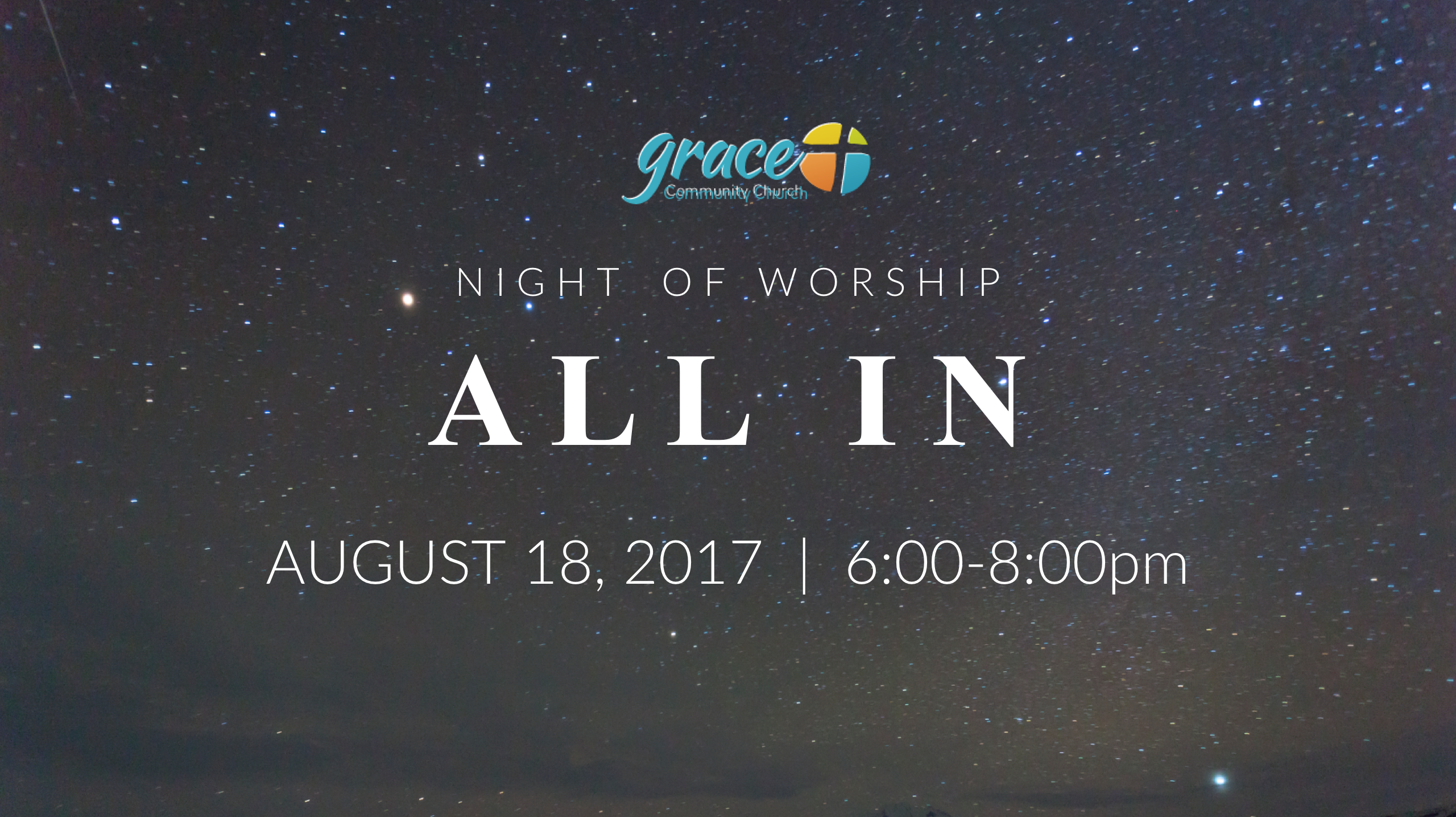 Friday, August 18 – 6:00-8:00pm
Are you ALL IN for Jesus Christ? This is our final night of worship for 2017, which celebrates the JOY and life we find in Him! There will be a free cafe, fellowship with your church family, and an invitation to accept Christ. Bring a friend!
Nights of worship (also known as "coffeehouses") are inspiring evening services which enhance the mission of Grace Community Church, "to make passionate, maturing followers of Christ ready to reach out to the world." Nights include powerful testimonies, guest artists/songwriters, and uplifting worship music with potential to transform hearts and lives.
Our final night of worship for 2017 ("ALL IN") will take place on Friday, August 18, 2017 from 6:00-8:00pm. ALL are welcome to attend!
---