Our Pastor
Dr. Terry E. Zebulske, Pastor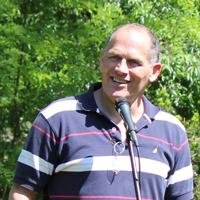 Terry Zebulske has served as Grace Church's pastor from its inception in 2004. He comes to Grace with a wealth of ministry experience as he has enjoyed serving the Lord in many ways during the last 30+ years. Since earning his doctorate from Westminster Theological Seminary in Philadelphia, he has served the Lord Jesus as senior pastor, associate professor, author, and college and seminary board member.
His passion is to teach the Bible in a clear and practical manner as he leads the church in its mission of making disciples. Terry is married to Faith, his college sweetheart, and they recently celebrated 35 years of marriage. They have three adult children, Sara, David, and Jonathan. Terry and Faith also enjoy being grandparents as they have four granddaughters. Terry enjoys working out at the pool where he swims 5 miles a week.  "Swimming helps me to not only try to stay in shape, but it also helps me to think more clearly and I get to meet other men (at the YMCA and elsewhere) that I would never have the opportunity to meet."
Terry has found that it is exciting to develop a new church that is anchored to the teachings of God's wonderful Word and has an intimate sense of community, whether its in the larger gatherings of the church, or in the small groups. Unity and intimacy are key words that describe his ministry emphasis.
If you have a question or prayer request, contact us by email.