Sunday Gatherings
Our Sunday morning service begins at 10:00am each week.
We have a nursery for infants through to 3-year-old children and a Sunday school program for pre-school children through junior high school kids. We are meeting in our new location at 325 Silver Spring Road, Mechanicsburg.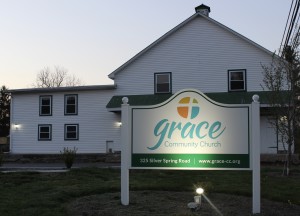 What To Expect
We at Grace are casual, relaxed and friendly! Everyone is welcome to join us regardless of where you've come from or your life experiences. Come as you are. A suit and tie isn't required (although it's fine if that's what you like). Most of the people who attend Grace regularly wear whatever they are comfortable in.
When you arrive for our Sunday morning gathering, you'll be greeted by some friendly people and invited to join us for free coffee and other refreshments. Our time together begins with prayer and worship in music, as well as a time to share prayer concerns and praises.
Worship is the highest priority at Grace Community Church. It's what we believe God created us to do. Worship, ultimately is something that encompasses our whole life. When we gather together we worship God corporately through music. As a small church, we love to share the talents and abilities the Lord has given us through our different styles of worship: from hymns to Christian radio choruses, from live music to singing a-cappella.
During the second half our children can attend the nursery or Sunday school classes available, while the rest of the congregation focuses on the sermon that our pastor has prepared. The truth of God's Word is the foundation of all we do at Grace. Pastor typically teaches through Scripture by explaining the selected passage verse by verse until the meaning and application become clear. We conclude with prayer and a last song.
Following the service, we stick around to say hello to friends and give anyone interested an opportunity to receive prayer for any need or concern they might have. Please introduce yourself to our pastor or any members around you (that is, if we don't introduce ourselves to you first!), we would love to meet you.